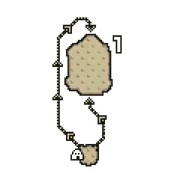 This new Arena is an area first introduced in Monster Hunter 4.
Notes
There are two exits out of base camp, leading to opposite ends of the map.
Features numerous small ledges that can be jumped off of, facilitating mounting attacks.
Features a switch that can be activated during a multi-monster quest to raise a wall in the middle of the arena, potentially splitting the monsters up.
Music Themes
| | Title |
| --- | --- |
| Battle Arena 【闘技場戦闘bgm】 Monster Hunter 4 Soundtrack rip | MH4: Arena Theme |
| Battle Arena 【闘技場戦闘】 Monster Hunter Generations Soundtrack | MHX: Arena Theme |
Gallery