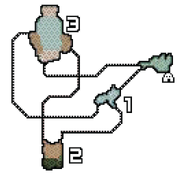 The Battlequarters is an area introduced in Monster Hunter 4 Ultimate. It is located in and around Dundorma and is often the target of attacks from Elder Dragons and other powerful monsters.
Weapons and Items
The Battlequarters is armed with mounted Ballista Turrets, a newly modified Track Cannon which can be moved from one part of the area to another with multiple cannonballs loaded at once, and a Dragonator. In addition to these weapons, many types of supply items can be gathered from base camp and Areas 1 and 2.
Also usable in the Battlequarters are the new Garrison Ballista Ammo and a prototype Elder Dragon repeller called the Demolisher. This super-heavy cannon requires a Dense Marcoal to use and fires a concentrated blast of Dragon energy at its target.
Notes
The Battlequarters is actually a part of Dundorma.
The Battlequarters is an upgraded version of the Town map from previous games.
Both the Garrison Ballista Ammo and Dense Marcoal can be purchased from the Researcher in Dundorma after completing the Research Facility quest line.
Gallery
Monster Hunter 4 Ultimate