Some of the names in this Article use an unofficial English translation of its official Chinese Name.
The name is obtained either by using Chinese translating programs or through previous existing English equivalent terms in the game. The names will be used as quick references around other articles in the Monster Hunter Wiki until Capcom reveals the official English names for them.

---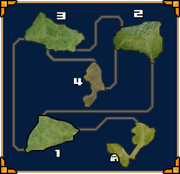 Dawnwind Valley is a location introduced in Monster Hunter Online.
It is known as the most natural environment with variety of woods and covered by fertile water plants where silver waterfalls slashes between the cliff rocks and trees stand so much longer than the history of mankind. So many miracles submerged themselves inside the mountainsides waiting to be explored. Hordes of Kelbi bring a little relief to those who dare to step into this area but, don't you let your guard down for the foul monsters are lurking in the shadow!
Gallery