Fire Emblem Warriors: Three Hopes - The Loop
Play Sound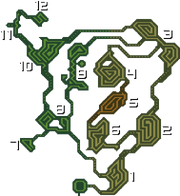 The Forest and Hills is a recurring location in the Monster Hunter series, introduced in the first game and appearing in all 1st and 2nd Gen sequels, before returning more recently in Monster Hunter Generations, known as Verdant Hills.
It consists, as its name implies, of deep forests and high hills, possessing an overall temperate climate.
The herbivores Aptonoth and Kelbi  roam the hills, as the location has an abundance of foliage, along with packs of Velociprey and their leader, Velocidrome. While this zone may seem perfect for novice hunters, it is not entirely danger-free; Rathalos and Rathian are commonly seen nesting on the highest cliffs, whilst Yian Kut-Ku, Gypceros, Yian Garuga, and even the Elder Dragons like Chameleos are known to inhabit this location as well.
Common Resources
Resource
Location
Low
High
G-Rank
Bones
Sm Bone Husk
5
Bone
5
Mystery Bone
5, 12
Unknown Skull
5, 12
Master's Skull
12
12
Bugs
Bitterbug
1,12
9
Flashbug
1, 9, 12
1, 12
1, 12
Thunderbug
1
1, 9, 12
9
Insect Husk
1, 3, 6, 7, 8, 9, 12
Godbug
9
1, 9, 12
9
King Scarab
1, 12
Joiner Grasshppr
1, 12
Fishing Bait
Cricket
1, 12
1, 12
Firefly
9
1, 9, 12
9
Worm
11
Fish
RumbleFish
Camp, 11
Sleepyfish
Camp, 11
Goldenfish
Camp
Knife Mackerel
Camp, 11
Pin Tuna
Camp
Sushifish
11
Burst Arrowana
11
Berries
Huskberry
1, 2, 3, 4
Needleberry
1, 2, 3, 4
Scatternut
1, 4, 8
Paintberry
4, 10
Power Seed
10
Mushrooms
Blue Mushroom
4, 8, 10
Special Mushroom
3, 7, 9, 10
Nitroshroom
3, 7
Stunshroom
3
3
Ores
Iron Ore
5, 6, 11
Machalite Ore
5
5, 6, 11
Earth Crystal
5, 6, 11
Disk Stone
6, 11
5, 11
5, 6
Dragonite Ore
5, 6
Carbalite Ore
5, 6
Stone
6, 11
6, 11
11
Whetstone
5, 11
11
11
Plants
Herb
2, 3, 4, 6, 7, 8, 9
Ivy
2, 6, 8
Sap Plant
6
Felvine
7
Sleep Herb
10
9, 10
9, 10
Antidote Herb
10
Misc.
Dung
1, 5
Wyvern Droppings
1, 5
Kut-Ku Scale
1, 5
1, 5, 9
1, 5, 9
Wyvern Egg
5
Spiderweb
6, 8, 12
Honey
7, 9
Large Barrel
12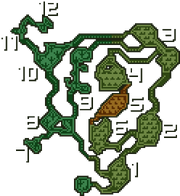 Resources
Areas found in
Bones
Bone
Area 4
Mystery Bone
Area 12
Bugs
Bitterbug
Areas 1 and 12
Carpenterbug
Areas 2 and 9
Flashbug
Areas 9 and 12
Royal Rhino
Area 9
Killer Beetle
Areas 9 and 12
Godbug
Area 9
Thunderbug
Area 12
Fishing Bait
Cricket
Area 1
Worm
Area 11
Fish
RumbleFish
Base Camp and Area 11
Sleepyfish
Base Camp and Area 11
Goldenfish
Base Camp
Knife Mackerel
Base Camp and Area 11
Pin Tuna
Base Camp
Sushifish
Area 11
Burst Arrowana
Area 11
Berries
Huskberry
Areas 1, 3 and 4
Needleberry
Areas 1, 2, 3 and 4
Scatternut
Areas 1 and 8
Paintberry
Area 2
Power Seed
Area 10
Mushrooms
Blue Mushroom
Areas 4, 8 and 10
Special Mushroom
Areas 3, 7, 9 and 10
Nitroshroom
Areas 3 and 7
Parashroom
Areas 1 and 8
Ores
Iron Ore
Area 5
Machalite Ore
Areas 5 and 11
Earth Crystal
Areas 5, 6, and 11
Disk Stone
Area 6
Stone
Areas 6 and 11
Goldstone Piece
Areas 5, 6, and 11
Suiko Jewel
Area 5
Whetstone
Area 11
Plants
Herb
Areas 2, 3, 4, 7, 8, 9
Ivy
Areas 2 and 6
Felvine
Area 7
Sleep Herb
Areas 9 and 10
Antidote Herb
Area 10
Sunset Herb
Area 10
Miscellaneous
Dung
Areas 1 and 5
Wyvern Egg
Area 5
Kut-Ku Scale
Areas 5 and 9
Spiderweb
Areas 6, 8 and 12
Honey
Areas 7 and 9
Large Barrel
Area 12
Geography
Base Camp
A caved in area with a Resting Bed, a Supply Box, and a fireplace. There's also a Fishing Spot behind the Resting Bed, and a Spiderweb right around the camp, the perfect place to heal. Leads to Area 1.
Area 1
A grassy field bordered by a river and a forest. Frequently inhabited by Aptonoth but beware, during egg hunting missions Velociprey or Shakalaka appear here. There is single Dung spot here (you can also gather Kut-Ku Scales from it) and a Bug Gathering spot.
Monsters: Aptonoth, Velociprey, Shakalaka.
Area 2
A flat grassy plain, a hill oversees the area and can be climbed to enter area 6, Velociprey are very common in this area.
Monsters: Kelbi, Velociprey, Shakalaka.
Area 3
A large grassy plain atop a cliff overlooking a forested countryside.
Aptonoth graze here often. Shakalaka sometimes wait here to ambush Hunters. Many Wyverns come here often.
Berries, Herbs, and Mushrooms can be gathered here.
Monsters: Aptonoth, Kelbi, Velociprey, Shakalaka.
Area 4
A very large hill overlooking both the plains and the forested areas of this region, Vespoid can usually be found here, Rathalos, Rathian and other Wyverns come here often.
Monsters: Vespoid, Rathalos, Rathian.
Area 5
A dry and dark cave, a perfect home for Wyverns, they often lay their Eggs here.
Wyverns and large monsters will come here to sleep when they're injured, Velocipreys also appear here often, as they like to feed on Wyvern Eggs.
Monsters: Velociprey, Shakalaka.
Area 6
A long vertical cliff face can be climbed to reach the top of the mountain, there is a bloodstain near the entrance of Area 5, Mosswine are the only herbivores known to appear here.
Monsters: Mosswine.
Area 7
A secluded and peaceful clearing in the forest where no monsters appear, this is also where the Forest and Hills Veggie Elder stays.
Area 8
A very mysterious forest. There is an abandoned hunter camp at the north west corner. The dead body of a Kelbi is found there.
Monsters: Mosswine, Bullfango, Velociprey.
Area 9
A thin stretch of land that cuts straight through the forest. There is also a little lake where the dead body of a Kelbi lies around. There are two passages, one where you have to crouch to enter; you can find a Bug Node there, and another one where you can find a Honey Comb.
Monsters: Melynx, Mosswine, Aptonoth, Velociprey, Shakalaka.
Area 10
A serene pond surrounded by lush trees and shrubs, Shakalaka sometimes wait here to ambush Hunters.
Monsters: Melynx, Felyne, Mosswine, Bullfango, Velociprey, Shakalaka.
Area 11
A tiny route leading to a Felyne village. A small stream cuts through this area, Bullfango and Mosswine sometimes appear here.
Monsters: Bullfango, Mosswine.
Area 12
A Felyne village where a Hunter can collect Barrels and Master's Skulls (High-rank only). You can retrieve the items that Melynx stole from you at the Drop Point and a Spiderweb can be harvested here.
Melynx and Felynes live here.
Monsters: Melynx, Felyne.
Notes
In Areas 8 and 9 there are oversized Kelbi carcasses. Though they cannot be carved, you can sometimes see Rathalos and Rathian eating from the one in Area 9, if you observe from a distance. There are also Velociprey which eat from it in the quest "Your First Monster Hunt" in Area 8 in MHF1.
After killing 9 Shakalakas, King Shakalaka appears in Area 5
In 1st Gen games, the camera in Area 9 stays closer than normal to the player, making it difficult to see your surroundings properly and consequently causing combat to be problematic, this is fixed in 2nd gen games.
With the Backpacker Expert armour skill, it is possible to jump 2 levels of ledges without breaking a Wyvern Egg. This makes it possible to traverse area 6 back to base camp rather than have to use areas 3 and 4, both of which are frequented by whichever wyvern is in the quest. This immensely simplifies the quest especially when there is a shorter time limit.

Gallery
Monster Hunter G
Monster Hunter Freedom Unite
Monster Hunter Online
Music Themes
| | Title |
| --- | --- |
| | MHFU/MHX/MHF-G9: Forest and Hills Music Theme (HR1-4) |
| | MHF-G9: Forest and Hills Music Theme (HR5~) |
| | MHF-G9: Forest and Hills Music Theme (G-rank) |
Videos
Video
Title
Location of Eternity
by octaneblue2
Video
Title
Location of Eternity
by octaneblue2
See Also