The Glacial Medusa are Dual Sword type weapons.
Appearences
Monster Hunter Freedom Unite
Glacial Medusa / (?) (MHFU)
Attack
308
Buying Cost
Upgrade Cost
Attribute
Ice, 200
N/A
85,000z
2nd Attribute
Posion, 220
Buying Materials
Upgrade Materials
Affinity
0%
N/A
Robust Wyvern Bone (6)
Giadrome Claw+ (4)
Ioprey Scale+ (3)
Toxin Sac (2)
Sharpness
Slots
OO-
Bonus
None
Rarity
9
Description
'Impossible to use' Ioprey materials make this ice and poison combo a reality
Remarks
Good early G-level weapon. When paired with Sharpness+1, Purple Sharpness is attained, making the weapon stronger. Capable of defeating a Copper Blangonga and several other HR8 monsters weak to Ice.
Images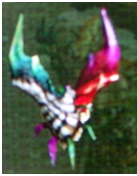 See Also
Community content is available under
CC-BY-SA
unless otherwise noted.