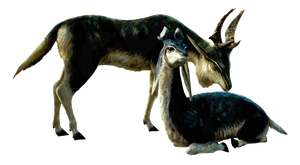 Kelbi are Herbivores that appear in Monster Hunter: World. These small monsters are known for their gentle demeanor and the medicinal properties of their horns. Those wishing to harvest a horn should aim for the head when attacking them. They can be found in the Wildspire Waste and Coral Highlands.
Behavior and Abilities
They will often run around in areas, commonly in groups of four. They will jump 4 times, stop for a few seconds, and continue jumping. While they are stopped, they can be hit easily. Their horns can be broken, which drops a shiny Kelbi Horn
Hunt Details
Kelbi appear in the following quests:
Ballooning Problems
Legiana: Embodiment of Elegance
Old World Monster in the New World
Monster Materials
Item Name
Rarity
Value
Description

Kelbi Horn
ケルビの角
4
52z
While not practical for forging purposes, Kelbi horns are a vital component of many items.

Warm Pelt
暖かい毛皮
4
120z
A pelt from a small animal. Used for many things, but mostly just regular clothes.

High-quality Pelt
上質な毛皮
6
320z
Rare pelt from a small animal. Feels wonderful to the touch and valued highly by the Commission.
Community content is available under
CC-BY-SA
unless otherwise noted.