Lilia (Japanese リリア) is a young girl seen living in Hakum Village.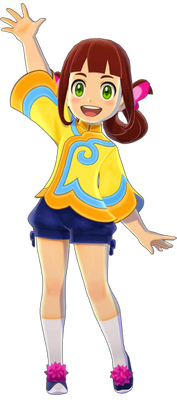 Personality
Lilia is an energetic girl that easily draws in others with her high enthusiasm. To many, she is looked at as an older sister.
Background
Much like Lute, Lilia is interested in exploring the wide open spaces of the world. She wants to explore the world in order to better understand the relationship between monsters and riders. However, instead of becoming a Rider, she decides to become a Scrivener under the apprenticeship of Captain Simone.
Appearance
Lilia is a young girl with green eyes and brown hair tied in donut-shaped pigtails. She usually wears a yellow shirt with blue swirls, blue shorts, has pink flowers on her shoes, and a pink hair accessory. After joining the Scriveners, she wears a special Scriveners uniform that consists of a blue coat over a dark brown vest and white shirt, brown shoes with gladiator wraps above her feet, a light brown skirt, white knee socks, and a red beret. She also ties her hair in twintails down to her waist.
Trivia
Source
Community content is available under
CC-BY-SA
unless otherwise noted.