RARE 6
Lion's Bane

| | |
| --- | --- |
| Attack: | 1008 |
| Attribute: | N/A |
| Awakening: | +200 Dragon |
| Affinity: | 0% |
| Slots: | OO |
| Bonus: | N/A |

Description: The fang of the king of beasts. Its wielder gains hundredfold power.
Forging Materials
Lion Claw
5
Carbalite Ore
6
Fearsome Maw
3
Cost: 45000z
Upgraded From: N/A
Upgraded Into: N/A
The Lion's Bane is one of the event weapons in Monster Hunter Tri. It is also one of the weapons in Tri created by fans of the series.
Last 7th September of 2009, Capcom-Unity and Capcom-Europe held contests for giving their members a chance to design and name a weapon for Monster Hunter Tri. Winners of the contest in Europe were announced in 19th of November 2009, and winners in North America were announced last 2nd December of 2009. The Lion's Bane is one of the designs that won in Europe, the other being Tenebra, the chosen name for the Name a Weapon contest, and the other in North America being Sinister Saints. The creator of Lion's Bane was a user named Jan-Wah Li. The Lion's Bane was originally designed to be a Sword and Shield.
Lion King's Seals are obtainable from the "Speak of the Deviljho" quest.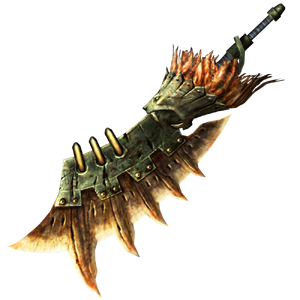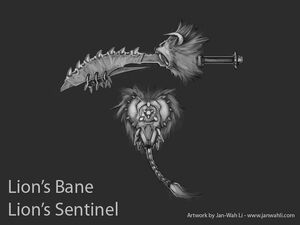 Community content is available under
CC-BY-SA
unless otherwise noted.