Guild Quests
If you fulfill certain conditions during an Expedition, such as slay the specified large monster, the Guild will give you clearance to take on special Quests. These are called Guild Quests, and they can be registered via the menu and then selected from the Gathering Hall's Quest Counter.
Receiving Guild Quests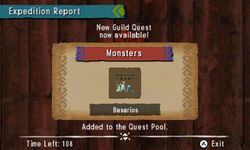 If you have received a Guild Quest from going on an Expedition, you will be notified after the Expedition ends.
Registering Guild Quests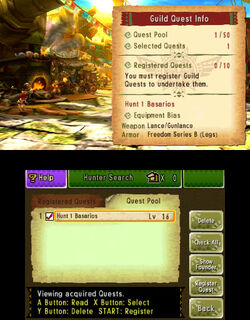 Guild Quests must be registered before they can be undertaken. Select a Guild Quest from the Quest Pool and then register it. You can have up to 10 registered Quests at once.
Undertaking Guild Quests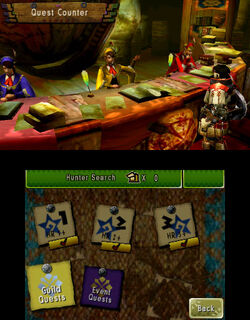 Once a Guild Quest has been registered, you can undertake it via the Gathering Hall's Quest Counter.
Raising Guild Quest Levels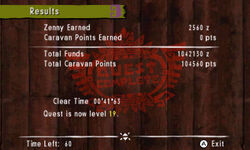 Clearing a Guild Quest will raise its level and difficulty.
Sending Guild Quests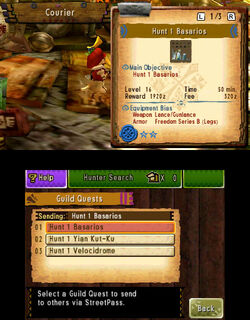 You can go on Guild Quests with other players, and you can distribute them to other players as well.
You can receive or send Guild Quests via the Courier or from the Guild Quests menu option while playing Multiplayer.
No matter what level a Guild Quest is currently at, it will always be distributed at a pre-determined level.
Community content is available under
CC-BY-SA
unless otherwise noted.