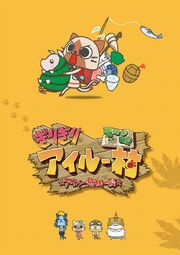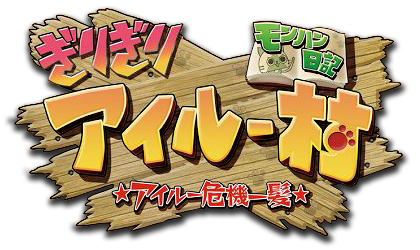 モンハン日記: ぎりぎり アイルー村
☆アイルー危機一髪☆
MonHan Nikki: Giri Giri Airu Mura
☆Felyne Close Call☆

MonHan Diary: Giri-Giri Felyne Village is a Japanese animation made by DLE and produced by GENEON UNIVERSAL. This would be the first time that such a production is made based on the Monster Hunter series. The series will debut on August 5, 2010 and will be the first of ten episodes, each being 3 minutes in length. The episodes will broadcast on the Tokyo MX TV network every Thursday at 22:55 (Japan Time). Capcom will also be broadcasting the episodes on their website the following Mondays with extra footage.
MonHan is the nickname for Monster Hunter in Japan.
Giri Giri means Just About or Just Barely and is often used as an expression to describe a close call.

"I almost didn't catch the bus, it was giri-giri."

Airu is the Japanese name for Felyne.
The animation will serve as a promotion for the PSP game, MH Diary: Poka Poka Airu Village, which will be released on August 26.
Links
The Story
アイルー達が楽しく暮らす村に住むニャイトは、今日も今日とて村の発展と報酬の為、特産キノコ狩りや、リオレイアの卵運び、黄金魚を釣ったりと、さまざまなクエストに果敢に挑戦していくのであった。
村の仲間のリーダーやニャミィ、パカセ、プーニー達になぜか足を引っ張られながら…
毎回訪れるピンチを乗り越えクエストクリアできるのか!

Nyaito lives in a village where Felynes are very happy. He aids in the development of the Village by gathering Special Mushrooms, fishing Goldenfish, and carrying Rathian's egg.
The various quests become more challenging everyday. His village companions Leader, Nyami, Pakase, and Puni have all suddenly turned to him for help...
Can Nyaito overcome each visit and clear their urgent quests!?
Videos
Characters

Nyaito (ニャイト)
Voiced by Yu Kobayashi (小林ゆう)
The hero and main character. A very down-to-earth Felyne. Has an unlucky fate.


Pugi (プーギー)
Voiced by Mamiko Noto (能登麻美子)
The village piglet that everyone loves.

Nyami (ニャミィ)
Voiced by Mikako Takahashi (高橋美佳子)
The only female. Naturally very girlish.
Loves to eat weird things.

Pakase (パカセ)
Voiced by Reiko Takagi (高木礼子)
Loves to collect inventions. He's a genius,
although is not one to act.

Leader (リーダー)
Voiced by Tomokazu Seki (関智一)
A very laid back Felyne who is never angry.
He is the leader only because he is the tallest.

Puni (プーニー)
Voiced by Benpineko (べんぴねこ)
The Felyne with a huge appetite.
He'll go through difficult lengths just to eat.

Instructor (教官)
Voiced by Kenta Miyake (三宅健太)

Nyasuta (ニャスター)
Voiced by Yōko Hikasa (日笠陽子)
Cast Interview
Link: http://www.capcom.co.jp/monsterhunter/pokapoka_airu/interview.html