Fire Emblem Warriors: Three Hopes - The Loop
Play Sound

Monster Hunter Diary: Poka Poka Felyne Village is an adventure game developed by FromSoftware released exclusively for the Playstation Portable in Japan. An expansion, Monster Hunter Diary Poka Poka Airou Village G, was released on August 10, 2011 and added content from Monster Hunter Portable 3rd. The game's servers are no longer online.
A remake, which included all of the content of G along with monsters from the 4th Generation such as Gore Magala and Seregios, titled Monster Hunter Diary: Poka Poka Felyne Village DX, was released for the Nintendo 3DS in Japan on September 30, 2015.
Quests and Gameplay
For the Quest List, see: MHD: FV: Quests.
The gameplay during a Quest is similar to the popular rhythm game Patapon, although it does not use rhythmic-based button inputs. The Felyne party is not controlled directly; instead they are given three types of commands via the

,

, or

buttons. The "Forward Arrow" will command them to move forward. The "Stay Arrow" will cause them to either burrow or stay put. A third specialized command; for example "Rest", "Attack", "Bomb", "Flute", etc. can be selected via the menu. Based on the commands you choose, various events will occur. Choosing the right commands will progress the party to the end of the quest.
Quests can be accepted from the Village's Guildhouse. Download Quests were also available.
Character Customization
Players could customize their Felyne by changing its color, pattern, and voice. Various items of clothing could also be equipped.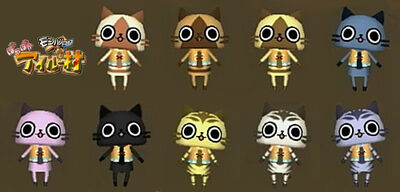 Village
Like main entries in the series, the game's main hub was a village, although inhabited by Felynes instead of humans and Wyverians. A Poogie could be used to travel around the village quicker. The player's house could be customized with exterior features, ceiling pattern, flooring, tables, and various decorations. The village featured activities such as fishing, mining, bugcatching, Poogie racing, and recruiting other Felynes by talking to the Felyne Granny.
Monsters
Small Monsters
Large Monsters
Data Transfer
If the player also had data for Monster Hunter Freedom on their PSP, they could transfer their Palico over and recruit them to the village.

Private Demo Play
A playable demo was available to select individuals on 03/16/10 in Japan at an event space in Tokyo's Minato Ward.
PSP Bundle
Monster Hunter Diary's release was marked with a special bundle, with a lilac-colored PSP. This bundle, as well as the game by itself, was noticeably marked down, in order to attract both fans of the main Monster Hunter series as well as those who had never played the series before.
Collaborations
Sanrio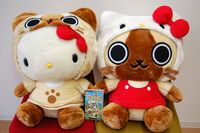 A collaboration with Sanrio was announced on March 16, 2010. Limited edition plush dolls based on the two crossover costumes (A Felyne wearing a Kitty costume and vice-versa) were produced. First editions of Monster Hunter Diary came with a product code which could be entered into a draw to win 1 of 100 (50 Felyne, 50 Kitty) plush dolls or 1 of 1000 phone straps. The following Hello Kitty-themed items could be obtained through event quests:
Hello Kitty costume
Helly Kitty house theme
Helly Kitty doll decoration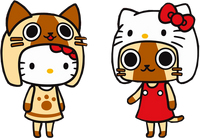 Animal Crossing
Monster Hunter Diary: Poka Poka Felyne Village DX included a collaboration with the Animal Crossing series, which added various items and costumes based on various Animal Crossing characters.
Screenshots
Videos
First Preview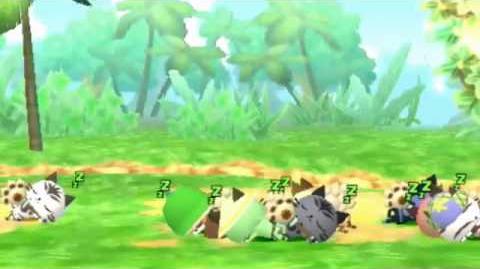 Second Preview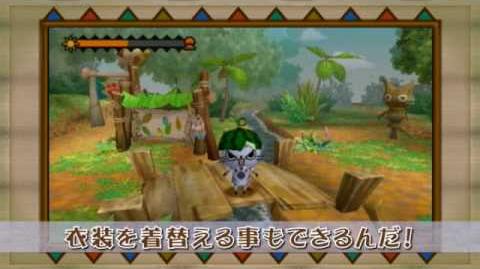 Opening Cinematic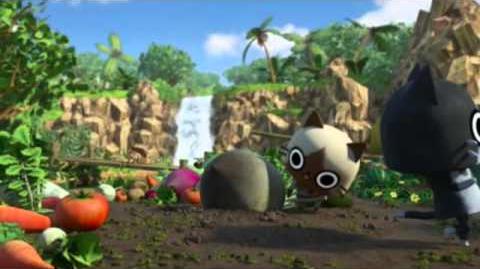 MH Diary G Trailer


MH Diary DX Trailer

Links