Roblox: DeepWoken - The Loop
Play Sound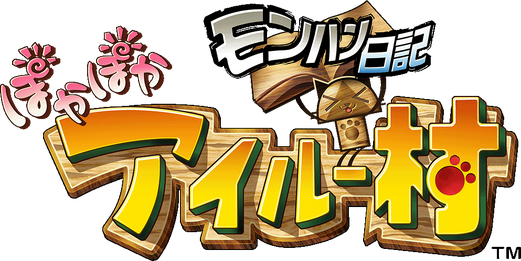 PSP Bundle
Monster Hunter Diary is set to release this August 26 exclusively on the PSP console for a low price of ¥3,990 (approx. $44 US). Newly released PSP games in Japan usually cost between ¥5,400 and ¥6,000. The lower price is an incentive to draw MHP fans and non-fans into the Monster Hunter series.

The PSP bundle, first revealed on June 1, 2010, will cost ¥19,900 (approx. $217.80 US). The new color of the PSP will be "Purple Lilac".
Private Demo Play
A playable demo was available to select individuals on 03/16/10 in Japan at an event space in Tokyo's Minato Ward.

Character Customization
Customize your Felyne character by selecting a color and voice.
Various headgear can be equipped.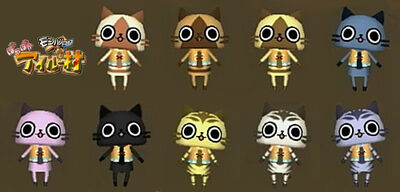 Village
Pugi/Poogie can be rode on to get around the village.
The main Felyne house in the village can also be customized with:
Exterior features, ceiling pattern, flooring, tables, etc.
For unknown reasons, there is a Yian Kut-Ku in the village.
Fishing, Mining, Bugnetting in the village is confirmed.
Use the Felyne Granny to recruit more Felynes to the village.
Quests
for the Quest List, see: MHD: FV: Quests
The gameplay during a Quest is a bit similar to the popular rhythm game Patapon, although it does not use rhythmic-based button inputs. The Felyne party is not controlled directly; Instead they are given three types of commands via the

,

, or

buttons. The "Forward Arrow" will command them to move forward. The "Stay Arrow" will cause them to either burrow or stay put. And a third specialized command; for example "Rest", "Attack", "Bomb", "Flute", etc. can be chosen. Based on the commands you choose, various events will occur. Choosing the right commands will progress the party to the end of the quest.
Those Quests can be accepted from the Village's Guildhouse. Download Quests will also be available.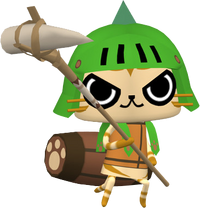 Ride on your Pugi/Piggi and race with other players to the finish line.
Data Transfer
Transfer your favorite Felyne Comrades/Cooks to the Airu Village from existing Monster Hunter Portable 2nd G save data.


Collaborations
Sanrio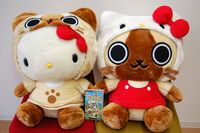 A collaboration with Sanrio was announced on March 16, 2010. Sanrio will also produce limited edition plush dolls based on the two crossover costumes. First editions of the Felyne Village game will come with a product code which can be entered into a draw to win 1 of 100 (50 Felyne, 50 Kitty) plush dolls or 1 of 1000 phone straps. The following Hello Kitty items are obtained through event quests:
Hello Kitty costume
Helly Kitty house
Helly Kitty doll (house decoration)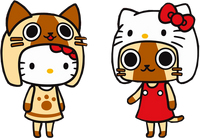 Screenshots
Videos
Commercial

Opening Cinematic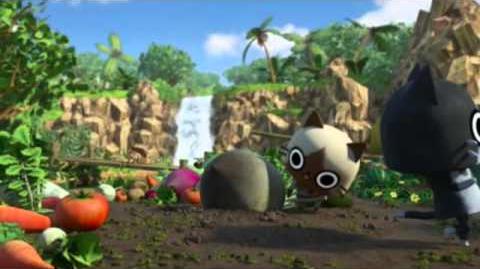 Links