Monster Hunter Collaborations (モンスターハンタ コラボ). This Article is all about the different collaborations, crossovers, and promotional gimmicks that the Monster Hunter Series have announced to date. These campaigns help Capcom sell more copies and to reach out to other people who have never played the game yet or are oblivious to the games existence. Depending on the agreement, collaborations can involve something small like giving away their latest copy of a game or as far as introducing other characters into the game.
Monster Hunter
GMR
GMR was a monthly magazine that is no longer in print. Its first issue debuted on February 2003 and the last issue ended in 2005. The GMR Chrome Heart is the first ever collaboration in the Monster Hunter franchise. This Great Sword was obtainable by completing an Event Quest called "The GMR Heavy Metal Crusade" which first appeared on October 24, 2004. The quest involved slaying a Diablos. The weapon costs 499z to make and requires the following materials: Chrome Voucher x5, Machalite Ore x5, Iron Ore x35, Unknown Skull x1. Because of its ease in obtaining and relatively decent stats, it was the weapon of choice for many new players.


Monster Hunter G
Monster Hunter Freedom
Monster Hunter Dos
Monster Hunter Freedom 2
Monster Hunter Freedom Unite
Dengeki
In Monster Hunter Portable 2nd G, there is a quest ("マ) 王 マオウ 再び!) with a one horned Diablos, called the マ)王 連片角 (One Horned Ma-King) or Devil Diablos. The monster is actually from a Monster Hunter 2 comic story [1] published by Dengeki. In a collaboration between Dengeki and Capcom, the monster was put into the game. The quest first became available on May 22, 2008.
Pizza Hut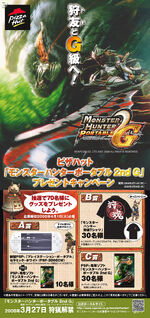 On February 14th to March 26th of 2008 in Japan, Capcom had another collaboration with Pizza Hut in promoting Monster Hunter Portable 2nd G. Instead of an in-game item, ordering a Pizza from the Japanese Pizza Hut website will give the buyer a chance at the following prizes:
A Ceramic White Play Station Portable. (PSP-2000CW)
A Black Monster Hunter T-Shirt.
A copy of Monster Hunter Portable 2nd G.
Monster Hunter Tri
Weekly Shonen Champion
Weekly Shonen Champion (週刊少年チャンピオン) is a manga magazine that is published weekly every Thursdays in Japan. Their collaboration with Monster Hunter 3 (Tri) was first revealed on July 30, 2009 and included a jacket design from the manga, Worst (ワースト). The jacket is called 武装戦線ジャケット, which requires an item (武装への招待状) from the event quest, 武装戦線・男たちの勝負!. There is also a white version of the jacket called the 狩猟戦線ジャケット. The skull logo on the jackets belong to the gang, TFOA (The Front of Armament), from the manga. The jacket also made it into the localized version of MH3 as the HellHunter Jacket and HellHunter Leather. However, the skull logo had to be modified due to copyright issues overseas. A matching set of Black Leather Pants is also available in the game.
Monster Hunter Portable 3rd
Metal Gear Solid: Peace Walker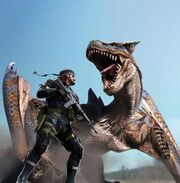 Main Article: Metal Gear Solid: Peace Walker
Collaboration talks between Capcom and Kojima Productions first began in 2008 when Ryouzou Tsujimoto and Hideo Kojima met in a talk event at the 2008 Tokyo Game Show. The idea was first presented by Kojima to do a tie-up between the Monster Hunter and Metal Gear Solid series.
Secret Society Eagle Talon
Secret Society Eagle Talon (秘密結社 鷹の爪) is a popular Japanese Flash animation created by Ryo Ono. The show is played on various internet video sites like DLE (Dream Link Entertainment). On September 16, 2010 at the Tokyo Games Show, it was announced to have a collaboration with Monster Hunter Portable 3rd. It will serve as a promotion for the game, much like MH Diary: Giri Giri Airu Village. At the same time, it will also reveal certain gameplay aspects.
Videos can be watched here: http://www.capcom.co.jp/monsterhunter/P3rd/mhp3rd_x_taka.html
Monster Hunter 3 Ultimate
Monster Hunter 4
Monster Hunter 4 Ultimate
Monster Hunter Genarations
Monster Hunter XX
Monster Hunter: World
Monster Hunter: World has one of the biggest collaboration list in Monster Hunter record, some of which incorporated into major content update that encompasses it's own story chapter.
Horizon: Zero Dawn
A multi-part collaboration with Guerilla Games' 2017 Open World RPG game exclusive to the PlayStation 4 version of Monster Hunter: World. So far the collaboration includes 3 seasonal timed Event quests (all of which named after a Story Quest from Zero Dawn).
Grants access to Aloy's full-set special armor (and later a Gamma version), her layered armor, her War Bow as craftable weapon, a Low Rank Palico equipment set and Guild Card editables including Background and Pose.
The collaboration has so far give access to Aloy's full-set special armor (and later an upgraded Gamma variant), her layered armor, her War Bow as weapon, special Low Rank Palico armor and Guild Card elements including background, pose and titles.
Street Fighter V: Arcade Edition
A collaboration with Capcom's fighting game series that is delivered through several seasonal Event and Challenge quests.
Grants access to crafting Ryu and Sakura's special full-set armors, both low rank and High Rank, their layered armor, the Hadouken gesture and Guild Card antics with reference to the Streets Fighter series.
Devil May Cry
A collaboration with Capcom's Hack'n Slash series delivered through seasonal timed event quests "Code: Red" and "Scorn of the Sun". This event premiered in commemoration of Capcom releasing Devil May Cry remastered classics.
Players get access to crafting armor pieces designed after Dante's look in his original appearance and a Charge Blade incorporating the form of two of Dante's swords in The original game: the Force Edge and Alastor. Players can also purchase a gesture in which they use the Ebony and Ivory akin to Dante. Layered armor and Guild Card editables are also available.
USJ
The collaboration with USJ made its first worldwide entry through two timed seasonal Event Quests.
The collaboration grants access into crafting a unique 5-pieces set of armor along with a matching Long Sword themed after "Azure Star".
Final Fantasy XIV: A Realm Reborn
This collaboration with Square Enix's MMO title is part of Content Update 5.0 that includes a new chapter, two special assignment, one repeatable Optional Quest and one seasonal timed Event Quests.
The collaboration introduces Final Fantasy XIV's Behemoth into World's roster of monster, which have to be fought in a far different manner than usual monsters.
Players get the access to craft the 5-piece Drachen armor set, the Gae Bolg Insects Glaive and the Dragon Soul Kinsect using materials from Behemoth, a layered armor was later made available. Moogle special armor and weapons for Palico is also available, along with Poogie costume and Guild Card editables. Cactuar also becomes available to capture and made pet.
Assassin's Creed: Origins
The collaboration with Ubisoft's Action-Adventure and Stealth game came through the timed event quest "SFD: Silent, Fierce and Deadly".
Players will be able to craft Bayek's full body Layered Armor and get the "Assassin's Hood" mantle which offer unique effects. Guild Card editables are also added.
The Witcher 3: Wild Hunt
The collaboration with CD Projekt Red's latest major installments of the Witcher series was part of update 6.0. This update spans a new separate chapter that involves Geralt of Rivia himself. A repeatable Special Assignment becomes available where player play as Geralt in a format very akin to the Witcher Game, even as far as having multiple ending.
The collaboration introduces the Witcher's Leshen into World's list monster, which is fought in the Special Assignment "Trouble in the Ancient Forest". The Ancient Leshen was introduced later as a target in a special timed Event Quest.
Players get access into Geralt's and Ciri's Special and Layered armor, the Witcher Silver Blade Sword and Shield and Zirael Dual Blade, along with new Guild Card editables, Palico equipment and Nekker as pet.
Monster Hunter Frontier
Pizza Hut
The first Pizza Hut collaboration with Capcom was announced on June 11, 2007. From July 5, 2007 to September 02, 2007, walk-in orders at Pizza Hut (not including telephone orders) will receive an event code to download the Pizza Peel (ピザピール) Longsword. After the event code is obtained, players will have to log onto Monster Hunter Frontier and enter a the Special Events hut in Mezeporuta Square (メゼポルタ広場) to receive the weapon. [2]
Dead Rising 2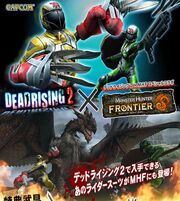 Monster Hunter Frontier in Japan for PC and 360 is getting Dead Rising 2 exclusive items. All are available and consisting of:
Dual Sword Knife Gloves
Moose Head Head Armor Piece
Boomstick Gunlance
4 colored variations on the "Terror is Reality" Racing suits.

The Racing Suits consist of Head, Torso, Arm and Leg Armor Pieces. There is no Hip Armor piece.
Players who get a copy of either Dead Rising 2 for the Xbox 360 or PC in Japan will receive a special token to get these items in either the PC or Xbox 360 version of Monster Hunter Frontier.
Gilco Ice Cream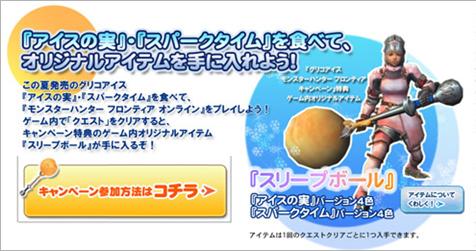 Super Street Fighter 4
Monster Hunter Stories
Monster Hunter Explore
MH Diary: Poka Poka Felyne Village
Hello Kitty
A collaboration with Sanrio was announced on March 16, 2010. Sanrio will also produce limited edition plush dolls based on the two crossover costumes. First editions of the MH Diary: Poka Poka Felyne Village game will come with a product code which can be entered into a draw to win 1 of 100 (50 Felyne, 50 Kitty) plush dolls or 1 of 1000 phone straps. The following Hello Kitty items are obtained through event quests: Hello Kitty costume, Helly Kitty house and Helly Kitty doll (house decoration).[3]
Domino's Pizza
On July 16, 2010 Capcom announced that they had formed a collaboration with Domino's Pizza. This collaboration involved Domino's Pizza giving away 50 copies of MH Diary: Poka Poka Felyne Village between July 16 and September 2 in 2010.
Namco Bandai

A collaboration with Namco Bandai was announced on August 19, 2010. A costume based on the arcade drumming game, Taiko Drum Master (太鼓の達人), will be available through an event quest. Felynes and Cha-Cha made an appearance in the drumming game earlier his year. For more information see http://www.capcom.co.jp/monsterhunter/topic_taiko.html
Sid
On August 25, 2010 it was made known that members of Japanese rock band, SID, will be lending their personal Felyne Comrade save data from MHP2g to be used in MH Diary: Poka Poka Felyne Village. The band members include Mao, Shinji, Aki, and Yuuya. Only the last three members are contributing their Felyne save datas. The downloads became available on September 12, 2010.
More information about the band members:
Shinji
MHP2ndG Character: Shinji, HR9
Total Playtime: 1058 hrs
Favorite Weapon: Hammer, Lance
Felyne Color: Yellow (Samurai armor)
Aki (明希)
MHP2ndG Character: aki, HR9
Total Playtime: 318 hrs
Favorite Weapon: Gunlance
Felyne Color: Pink (Samurai armor)
Yuuya (ゆうや)
MHP2ndG Character: snake, HR9
Total Playtime: 945 hrs
Favorite Weapon: Hunting Horn, Great Sword
Felyne Color: White (Acorn armor)
Other
Lost Planet 2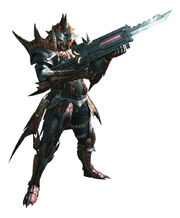 Main Article: Lost Planet 2
A collaboration with Lost Planet 2 was announced on April 15, 2010.[4] The main character used in Lost Planet 2 can use the Rathalos Armor from Monster Hunter 3.
Famitsu
Famitsu (ファミ通), a Japanese magazine publisher, has often collaborated with Capcom to include its own equipments in the Monster Hunter games.
Official Sites
External Links