The Snow Venom are Dual Sword type weapons.
Appearences
Monster Hunter Freedom Unite
Snow Venom / (?) (MHFU)
Attack
168
Buying Cost
Upgrade Cost
Attribute
Ice, 120
5080z
5080z
2nd Attribute
Poison, 80
Buying Materials
Upgrade Materials
Affinity
0%
Iodrome Hide(4)
Giadrome Hide (4)
Giadrome Claw(6)
Poison Sac(4)
Iodrome Hide(2)
Ioprey Fang(8)
Giaprey Hide(4)
Sharpness
Slots
---
Bonus
None
Rarity
4
Description
'Impossible to use' Ioprey materials make this ice and poison combo a reality
Remarks
The dual swords Snow Venom boast not only decent raw damage for beginners, but also the ability of having two elements (ice and poison). Thus, with its slightly rare materials, Snow Venom is not only suitable for beginners, but has potential for those who are more experienced as well.
The drawback of this weapon is that it hits more ice than poison, hence taking more time to poison the target.
Images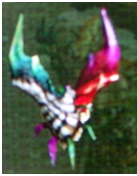 See Also
Community content is available under
CC-BY-SA
unless otherwise noted.