Fire Emblem Warriors: Three Hopes - The Loop
Play Sound
| | |
| --- | --- |
| | MH4: Sunken Hollow Music Theme |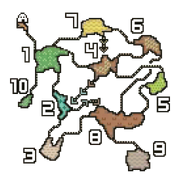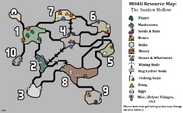 The Sunken Hollow [1] is an area first introduced in Monster Hunter 4. It is a large, subterranean cave system that features lakes of green fluids and giant cobwebs, connected to a dormant volcano. The Sunken Hollow is home to many monsters which are suited to life in a dark, wet environment, such as  Khezu, Gypceros, Nerscylla, and Tetsucabra.
Items
Plants:
Honey
Herb
Antidote Herb
Fire Herb
Ivy
Sap Plant
Gloamgrass Root
Mushrooms:
Blue Mushroom
Nitroshroom
Parashroom
Exciteshroom
Berries:
Paintberry
Adamant Seed
Nulberry
Pierce Seed
Minerals & Ores:
Stone
Iron Ore
Earth Crystal
Machalite Ore
Dragonite Ore (High-rank)
Carbalite Ore (High-rank)
Aquaglow Jewel
Sunspire Jewel
Bloodrun Jewel (High-rank)
Lazurite Jewel (High-rank)
Mystery Charm
Shining Charm (High-rank)
Fish:
Whetfish
Sushifish
Sleepyfish
Scatterfish
Glutton Tuna
Gastronome Tuna
Small Goldenfish
Insects:
Insect Husk
Snakebee Larva (At honey spots)
Godbug
Bitterbug
Flashbug
Thunderbug
Glueglopper
Hercudrome (High-rank)
Kinsect Nectar:
Stam Nectar: Water
Stamina+ Nectar
Nectar: Water+ (High-rank)
Bones:
Bone Husk
Monster Bone S
Mystery Bone
Unknown Skull

Gallery
Notes
Its English name was first revealed during Capcom's Livestream event for E3 2014. [1]
When the volcano in the area becomes active and erupts, it fills the caves with lava and changes this area to the Volcanic Hollow.
External Links