Surprised no one has noticed this by now, but this page is missing the Japanese box art and Nergigante as the flagship monster in the info box.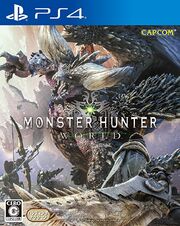 I don't think the game released on Xbox in Japan so it would only need this PS4 cover. 
Simok1234 (talk) 17:53, May 12, 2018 (UTC)
Indeed MHW is not available for Xbox in Japan, buti cannot fix it since page is locked.
Drake 512 (talk) 20:53, May 12, 2018 (UTC)
I know, I'm hoping someone that can edit will do it, otherwise I would have done it myself. 
Community content is available under
CC-BY-SA
unless otherwise noted.