Š ∃ † ∏ ë Θ
~ the bountious one
E - Endurance
♦ ♦ ♦ Secondary Data
♦Favorite Games: MHF1, MHF2, MHFU, Monster Hunter Tri, MH3U, FFVII Crisis Core, Pikmin 3, Animal Crossing:New Leave
♦Favorite Colors: Blue, Green, Black, White
♦First MH GAme: MHFU
♦Favorite Monster: Plesioth, Zamtrios
♦Least Favorite Monster: Vespoid, Bullfango
T - Tolerance
♦ ♦ ♦ Personal Talk
Hi,
my name is Brian, but you can call me also Setheo. I have been in this Wiki now since (I think) 1 year or so and know pretty much all of the users that throw their time here away. But I started Monster Hunter 4 years ago. At the beginnig I was pretty much that Longssword n00b that pretty every pro hates when goin' to a mission. Later (last year) I switched to Bowgun and Great Sword, beating the crap out of the Monsters, but since I got Tri I've been only playing with Lance (I also was able to try all the others weapons, but I still prefer lance. I know that a true Pro can use even the worst weapon [Ls] and be just awesome instead with it, but imma not that sure to call myself a Pro yet). 
Appearently I have two PSP's and rarely play with my Brother (Mhfu). But now that I have a Wii and MH Tri I also enjoy the taste of pure epicness, and lance thrashing moments. The only Problem is that I dont have a PS3 so that I could play with other Monster Hunter Fan's per adhoc and I also don't have  wlan, meaning I can't play Tri Online (But under special conditions I sometimes get the chance to play Online)
So The Weapons I'd say I mastered till now:
Long Sword
Great Sword
Lance
Bowgun
H - Helpful
♦ ♦ ♦ Working on ...
Fanon ... always
In need of Guild Quests!
If you happen to have one or two I'd be realy glad if you could share them with me. Am currently working on Artian and Hornet Relic set.
Artian Relic Set
Monster required: Brachydios, Tigrex Sub, Zinogre Sub
Series: Tri serie
Letters: A-C
Pieces required: all (Head - Leggings)
Hornet Relic Set
Monster required:Tigrex, Zinogre
Series: Freedom Series
Letters: A-F
Pieces required:all (Head - Leggings)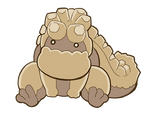 Community content is available under
CC-BY-SA
unless otherwise noted.