The Man (Japanese 加工担当) is a smithy for the traveling caravan found within Val Habar.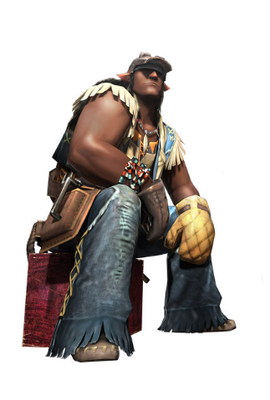 Personality
The Man is not a very talkative person yet kind-hearted in nature. Though he doesn't talk much in public, The Man is well known for telling stories with his team members.
Background
While young, The Man lived in Cathar before eventually moving to Val Habar. In Val Habar, he met the Caravaneer and helped him make the caravan what it is now. Like his grandfather, he is a master craftsmen of armor and weapons. Though not as legendary as his grandfather, he has tried to become a better smithy by working with rare materials from monsters, such as Kushala Daora and White Fatalis.
Appearance
The Man wears a special blue outfit, built to protect him as he crafts equipment, along with a mask to protect his face. From years of working, he is bulky compared to most other young wyverians.
Sources
"Hunter's Encyclopedia 4"
Community content is available under
CC-BY-SA
unless otherwise noted.