The Twin Nails are Dual Sword type weapons.
Appearences
Monster Hunter Freedom Unite
Twin Nails / (?) (MHFU)
Attack
238
Buying Cost
Upgrade Cost
Attribute
Fire, 300
50,000z
50,000z
2nd Attribute
Ice, 300
Buying Materials
Upgrade Materials
Affinity
0%
Daora Claw (2)
Fire Dragon Claw (2)
Teostra Mane (3)
Commendation G (2)
Fire Dragon Claw (1)
Daora Webbing (3)
Fire Drgn Webbng (3)
Sharpness
Slots
---
Bonus
None
Rarity
5
Description
Painful training is required to wield that which turns your arms into fire and ice.
Remarks
Good Dual Swords for the end of low rank and even useful for some high rank quests. Its final upgrade is probably one of the best Dual Swords in MHFU.
Images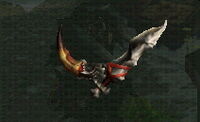 See Also
Community content is available under
CC-BY-SA
unless otherwise noted.