The Underwater Ruin is a ruin of an ancient civilization sunken deep beneath Moga Island. The Elder Dragon, Ceadeus, makes its home here along with Goldbeard Ceadeus and the Abyssal Lagiacrus. There is a shortcut from base camp to Areas 2 and 3 available when you have repelled Ceadeus. The battle soundtrack of Underwater Ruin is the same as the Tower's battle soundtrack. A Dragonator and two ballistae are found in these ruins,supposedly built by the old ancestors of the Moga Village Chief to keep monsters, like Ceadeus, at bay.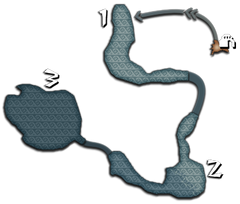 Song
These are the lyrics to the song that is played in the Underwater Ruins. Taken from the Hunter's Encyclopedia 3.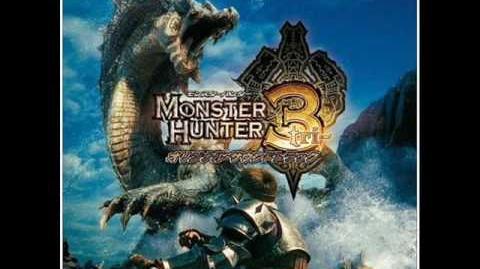 Japanese
Translation

生命の歌

我は問う生命の意味を
我は問う生命の像を
今、誕生させよう 新たな歌を



それは生命の連鎖 海の音色
生命の共鳴 大地の呼応
生命の解放 陽の調和
それは全てを繋ぐ歌



これは生命の旋律 海の声
生命の節奏 大地の鼓動
生命の和声 陽の息吹
これは全てを歌う歌



全ては語る
求める意志と心に
全フは奏でる
想像する意思と想いに
斩たな歌は己の中に


Song of Life

We ask of the meaning of life
We ask of the image of life
Now, let us give birth to a new song



The sound of the sea is the chain of life
Resonating with life, hailing the earth
The liberty of life, the harmony of the sun
It is the song that connects us all



This voice of the sea is the melody of life
The tune of life, the beat of the earth
The breath of life, the harmony of the sun
It is the song that we all sing



All will chant
Wishing for will and heart
All will raise their instruments
Imagination, desire, and thought
A new song, birthed within us.
Detailed Map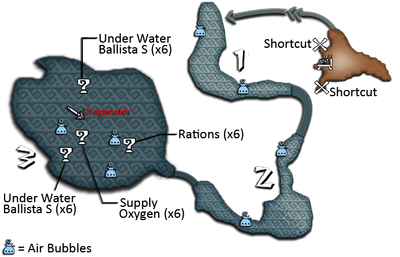 Gallery