First Generation
Monster Hunter Portable / Monster Hunter Freedom (PSP)
Icon
English Name
Japanese
Name
Monster Title
Yian Garuga
Japanese: イャンガルルガ
Chinese: 黑狼鸟
Japanese: 黒狼鳥
Chinese: 黑狼鸟
Second Generation
Monster Hunter Portable 2nd / Monster Hunter Freedom 2 (PSP)
Icon
English Name
Japanese
Name
Monster Title
Akantor
アカムトルム
覇竜
Tigrex
ティガレックス
轟竜
Third Generation
Felyne Comrade Weapons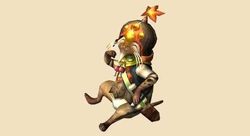 Monster Hunter Portable 3rd introduced the concept of crafting equipment for your Felyne Comrades rather than selecting them from the menu for cosmetic purposes, Felyne weapons can be either Slash or Impact and like the hunter's weapons, these have varying Attack Power, Elements, Sharpness and Affinity.
Creating Felyne equipment requires Scraps, which can be obtained by transforming materials at the Felyne Blacksmith or received after creating a piece of equipment for your hunter.

NOTE:
Legend
Impact
Slash
Community content is available under
CC-BY-SA
unless otherwise noted.