Hello, and welcome to Monster Appreciation Week!
This week we look at the tyrannical nomad of the MH World, Akantor!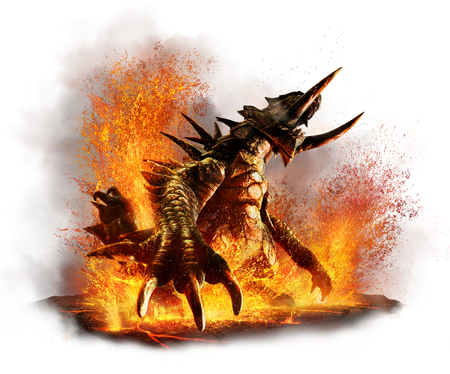 In-Game Description
Monster Hunter 4 Ultimate

A wyvern shrouded in mystery and known by many names -- "the black god" to some, "the tyrant of fire" to others, but usually called "Akantor" by the Guild. Its giant spines and tusks make for a fearsome sight in the volcanic areas it frequents.




Threat Level (危険度): ★★★★★★
Monster Hunter 4 Ultimate Equipment
Blademaster


Gunner


Critical Eye +1
Sharpness +1
Blunt Edge

Critical Eye +2
Earplugs
Sharpness +1
Blunt Edge

Critical Eye +1
Load Up
Reload Speed -1

Critical Eye +2
Earplugs
Load Up
Reload Speed -1
Interesting Facts About Akantor
Akantor is 997cm tall and reach lengths about 2994cm-3049cm long.
Akantor is known as the Black God, Tyrant of the Volcano, and the Lord of the Fiery Prison.
Akantor have been found living in the Volcanic Belt and throughout the Volcano though they are nomadic and highly adaptable.

They've also been seen living in the Snowy Mountains and even in the Jungle.

Sometimes Akantor the Guild are keeping track of actually disappear without a trace. It is feared by the Guild that Akantor could eventually team up with Ukanlos and cause great chaos.

There is only a small number of Akantor known to the Guild and its unknown how many live in the Jungle along with Snowy Mountains.

They prey on other large monsters like Gravios, Basarios, and other heavily armored monsters plus more.
Its jaws and teeth are strong enough to break through Gravios' armor. Its tail makes the ground shake and rumble, each time it shakes it.
The shell and scales of it are able to withstand lava and it digs underground using its tusk to get through the ground.
It doesn't have an organ that produces breath-based attacks but it has powerful lungs like Tigrex. Its roars are enough to break rocks shatter the ground around it, causing lava to appear around it. The Sonic Blast is used to attack prey or destroy obstacles that are far away.

It is reported and documented that Akantor shot a airship out of the air.

Akantor shares a lot features with its ancestors, the Origin Wyverns.
It was going to be an Elder Dragon at first from its power being beyond any normal wyvern but was put into the Flying Wyvern from it fitting better with them.
Strange fluids are made from calcium on its body forming rare ores found in the Volcano on Akantor.
When enraged, it produces acidic salvia to attack prey.
Its own name in some villages means Disaster. Some of the extreme things it has been seen with are droughts and heavy thunderstorms.
The spikes on its back actually are sharp as rocks and can cut a person up.
Why is it an Elder Dragon-Level Monster?
Akantor's overwhelming strength and the fact that it was temporarily classified as an Elder Dragon, makes it an Elder Dragon-Level Monster. It has been seen surviving in heavy thunderstorms and long droughts, before bring destruction to whole towns. When it appears, the public is evacuated from the town since it can bring on this much destruction like an Elder Dragon.
Akantor's BGM
| | |
| --- | --- |
| Monster Hunter Freedom Unite Akantor Theme | Akator Theme |
Videos
Video
Title
MHFU: Akantor Introduction Video
Provided by octaneblue2
Video
Title
MHP3: Akantor Introduction Video
Provided by Naeryu
Video
Title
MH4: Akantor Introduction Video
Provided by DrTangerine
Video
Title
Akantor Ecology Video
Provided by Naeryu
Video
Title
MHFU Gameplay (Greatsword)
by Thewhiteresidue
Video
Title
MHP3 Gameplay: Akantor (Group)
by o3killu
Video
Title
MH Frontier: HardCore Akantor
by AzureStarStone
Video
Title
Monster Hunter 4 - Akantor GREAT SWORD gameplay
by iCEMANnoob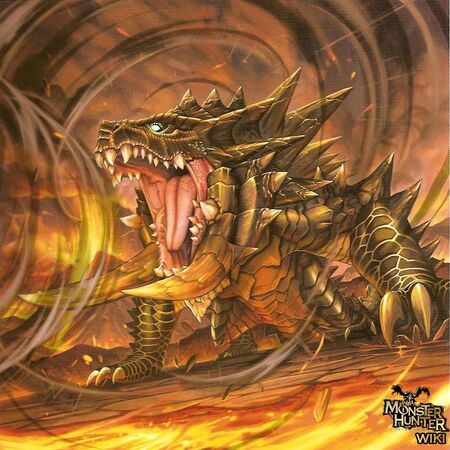 Community content is available under
CC-BY-SA
unless otherwise noted.