It's been a while, hasn't it? After months of waiting, Monster Appreciation Week/MAW has finally returned!
This week we look at the Gatekeeper of Master Rank, Beotodus!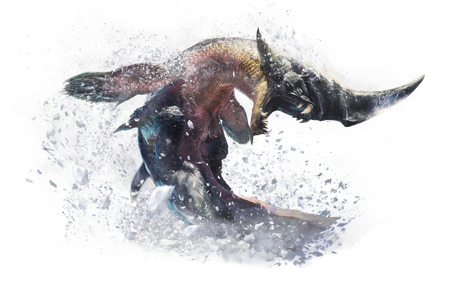 Monster Hunter World: Iceborne

This piscine monster's wedge-shaped head allows it to freely swim through the tundra snow. Frequently seen flinging snow at prey.
Monster Hunter World: Iceborne Equipment
Master Rank (Alpha)


Master Rank (Beta)


Earplugs (Lv5)
Ice Attack (Lv5)
Health Boost (Lv3)
Aquatic/Polar Mobility (Lv2)
Stamina Surge (Lv1)

Earplugs (Lv3)
Ice Attack (Lv2)
Health Boost (Lv2)
Aquatic/Polar Mobility (Lv2)
Stamina Surge (Lv1)
Interesting Facts About Beotodus
Order: Piscine Wyvern - Suborder: Fish Feet Wyvern - Superfamily: Frozen Fish Wyvern - Family: Beotodus
Beotodus is a Piscine Wyvern that swims in the snow of the Hoarfrost Reach.
Its existence has been known by the Guild for a while, but its species has barely been studied.

That's why the Handler already had some data on Beotodus during Iceborne's story.

On its head is a sharp horn that it uses to plow through the snow, and specialized fins on its legs allow it to kick up snow as it swims through its environment.

Wounding Beotodus's legs will prevent it from kicking up snow efficiently.

Like other Piscine Wyverns, Beotodus is a predator. It mainly feeds on Popo and will bury some of its kills in the snow for later consumption.
Videos
Last Week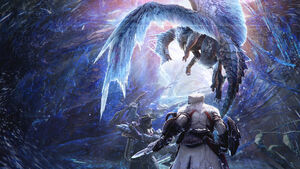 If you missed last week's Discussion of the Week, 2019, you all are still more then welcome to comment on it!
Next Week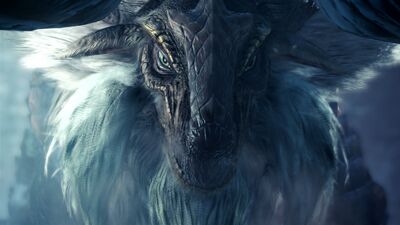 Community content is available under
CC-BY-SA
unless otherwise noted.