Hello, and welcome to the first Monster Appreciation Week for Monster Hunter Generations Ultimate!
This week we look at the Leader of the Giaprey, Giadrome!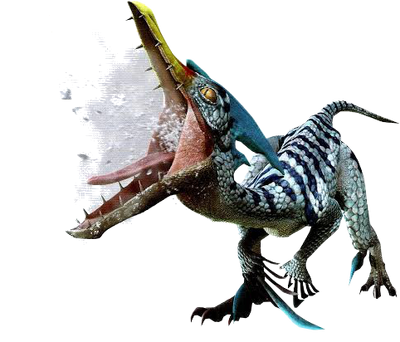 In-Game Description
Monster Hunter Generations Ultimate

Alpha monsters that lead Giaprey packs. They sport splendid crests and are much bigger than Giaprey they lead. They spit ice with deadly accuracy, and woe betide the Hunter who gets caught in it.




Threat Level (危険度): ★★★
MHGU Equipment
Low Rank


High Rank


Ice Attack +1
Negate Bind
G-rank


Ice Attack +1
Negate Bind
Latent Power +1
High Rank


G-rank


No skills (Fate: +8, Protection: -8)
Interesting Facts About Giadrome
At first, Giaprey were thought to be Albino Velociprey due to them looking very similar to them, excluding the white scales, and from them being found alongside Velociprey. It was later discovered that they were making packs in the Snowy Mountains/Arctic Ridge and were soon seen as a new Subspecies of Velociprey that evolved to a different, colder environment.

Despite this Giaprey are still quite adaptable and can be found living a lot of areas.

Their ancestor was the Velociprey.
Giaprey are the third Subspecies of the Velociprey, the other two being Genprey and Ioprey.
Unlike the other Runner Wyverns, Giaprey can spit a freezing cold liquid at prey. This spit can freeze in prey in their tracks.
From their scales being white and blue, they are able to blend into the snow, allowing them to hunt better in the cold.
Many cloths the villagers wear in Pokke Village are made of Giaprey Skin.
Their fangs are very cold and sharp to the touch.
Giadrome are the leaders of the Giaprey.
Its main job is to keep order in the pack and to hold down prey for its pack.
Unlike most other Velociprey species, Giadrome and Giaprey are quite social, plus are known to be made up of more than one pack. Both Giadrome will live together, and even control each other's pack. By being together, their packs are much deadlier and larger than before.
Giadrome claws are used to polish objects.
The comb on a Giadrome's head is called a Green Fin.
Giadrome Thighs are great boiled or baked!
Reason for Giadrome's Return
Giadrome was brought back in Monster Hunter Generations Ultimate for nostalgia reasons. For old fans, ones that started with Monster Hunter Freedom 2/Monster Hunter Freedom Unite, this was the first large monster they ever fought, and this was their first trial as a hunter like Yian Kut-Ku was for 1st Gen hunters.
Videos
Video

GiaDrome intro

Title
MHFU: Giadrome Intro
by PhuzhinHunters
Video
Title
【MHXX】村★7 ドスギアノス狩猟【何年ぶりだコイツ】
by mimusu1634
Next Week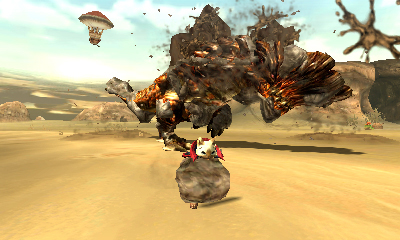 Community content is available under
CC-BY-SA
unless otherwise noted.