Hello, and welcome to Monster Appreciation Week!
This week we look at the Golden Girl, Kulve Taroth!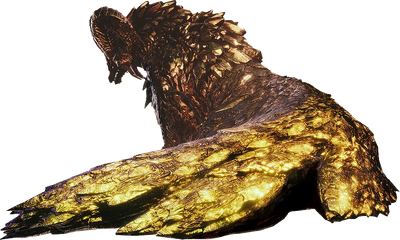 Monster Hunter Generations Ultimate

An elder dragon that protects itself with a glittering coat of metal. Its ecology and coat differ with each appearance, thus the need for a thorough investigation.




Threat Level (危険度): ★★★★★★★★★
Monster Hunter: World Equipment
High Rank (Alpha)


High Rank (Beta)


Free Elem/Ammo Up (Lv3)
Stun Resistance (Lv2)
Power Prolonger (Lv2)
Wide Range (Lv2)
Handicraft (Lv2)
Agitator (Lv2)
Critical Boost (Lv2)
Peak Performance (Lv2)

Free Elem/Ammo Up (Lv3)
Stun Resistance (Lv2)
Power Prolonger (Lv2)
Wide Range (Lv2)
Agitator (Lv1)
Handicraft (Lv1)
Critical Boost (Lv1)
Peak Performance (Lv1)
Interesting Facts About Kulve Taroth
In the past, the First Fleet came across Kulve Taroth forty years ago but weren't able to study her because they lacked the necessary hunters, and lost track of the giant Elder Dragon. Forty years later Kulve Taroth reappears, and the Research Commission send in the Fifth Fleet to investigate her. The Research Commission wants hunters to break Kulve Taroth's horns, so they can further study them since they know little about her.

It is believed that the energy Zorah Magdaros released and convergence of bioenergy throughout the New World, caused by Xeno'jiiva, made Kulve Taroth and other species become more active.

Kulve Taroth lives in the Caverns of El Dorado.

The Caverns of El Dorado are a peculiar network of caverns shaped and influenced both by the Everstream and the minerals that Kulve Taroth has collected over the years. Kulve Taroth's nesting ground—as yet undiscovered—is rumored to rest within the deepest region of the caverns, from which tremendous geothermal energies seem to emanate.
Some tracks of Kulve Taroth have been found in the Ancient Forest.

Kulve Taroth is able to attract all sorts of metallic substances to her body.
Videos
Last Week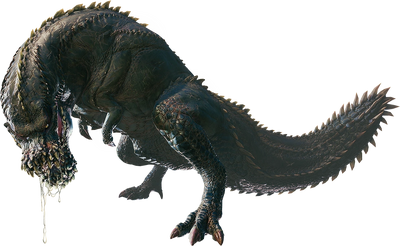 If you missed last week's Monster Appreciation Week, Deviljho, you all are still more then welcome to comment on it!
Next Week
Community content is available under
CC-BY-SA
unless otherwise noted.