Hello, and welcome to Monster Appreciation Week!
This week we look at the Floating Sleep Wyvern, Nightshade Paolumu!
Monster Hunter World: Iceborne

A Paolumu subspecies capable of putting prey to sleep. It produces a powerful sedative gas stored within its throat sac that it can expel and scatter to knock unwary foes out.
Monster Hunter World: Iceborne Equipment
Master Rank (Alpha)


Master Rank (Beta)


Wide-Range (Lv5)
Sleep Attack (Lv3)
Maximum Might (Lv2)
Sleep Resistance (Lv2)
Weakness Exploit (Lv1)

Wide-Range (Lv2)
Sleep Attack (Lv2)
Sleep Resistance (Lv2)
Weakness Exploit (Lv1)
Maximum Might (Lv1)
Interesting Facts About Nightshade Paolumu
Order: Saurischia - Suborder: Wyvern Feet - Superfamily: Inflating Neck Wyvern - Family: Paolumu
Nightshade Paolumu is a subspecies of Paolumu that lives in the Wildspire Waste.
While its cousin feeds on coral eggs, Nightshade Paolumu preys upon Carrier Ants.
While Paolumu breathes wind at enemies, Nightshade Paolumu is capable of firing gas out of its mouth that puts any potential threats to sleep.

This gas potentially comes from the Carrier Ants it feeds on.

Compared to Paolumu, Nightshade Paolumu seems to be a better flyer than its cousin yet prefers to stick to the ground.
Videos
Last Week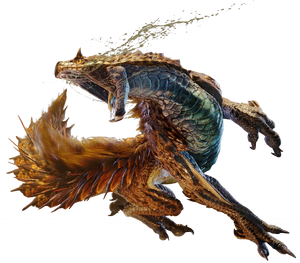 If you missed last week's Monster Appreciation Week, Viper Tobi-Kadachi, you all are still more then welcome to comment on it!
Next Week
Community content is available under
CC-BY-SA
unless otherwise noted.