Hello, and welcome to Monster Appreciation Week!
This week we look at the Cherry Blossom, Pink Rathian!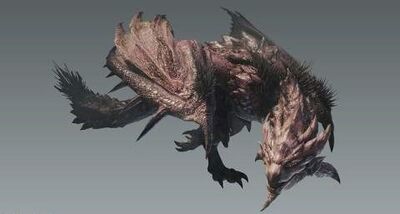 Monster Hunter: World

A subspecies with vibrant pink scales. Pink Rathians wield their toxic tails more deftly than normal Rathians, weakening prey with poison before moving in for the kill.




Threat Level (危険度): ★★★★★★
Monster Hunter: World Equipment
High Rank (Alpha)


High Rank (Beta)


Pink Rathian Mastery (Poison Duration Up) 3 pieces of armor
Evade Extender (Lv1)
Handicraft (Lv1)
Windproof (Lv3)
Tool Specialist (Lv3)
Poison Attack (Lv1)
Poison Resistance (Lv1)

Pink Rathian Mastery (Poison Duration Up) 3 pieces of armor
Evade Extender (Lv1)
Handicraft (Lv1)
Windproof (Lv1)
Tool Specialist (Lv2)
Interesting Facts About Pink Rathian
Order: Saurischia - Suborder: Wyvern Feet - Infraorder: Armor Shell Wyvern - Superfamily: Flying Wyvern - Family: Rath
Pink Rathian is the Subspecies of Rathian.

Despite being called a "Subspecies", it is believed that Pink Rathian's color is caused by a genetic mutation, meaning she likely is the same species as Rathian.

Her title Sakura Fire Wyvern (Japanese 桜火竜) comes from the color of her shell resembling a cherry blossom. She is also sometimes called the Phantom Female Fire Wyvern (Japanese 幻の雌火竜), due to her rarity compared to a normal Rathian.

Just like in the real world, cherry blossoms are common in the eastern parts of the world.
At a time, Pink Rathian was thought to be a near rumor.

Pink Rathian has been seen inhabiting Forest and Hills/Verdant Hills, Deserted Island, Misty Peaks, Ancestral Steppe, Old Desert/Dunes, Desert, Sandy Plains, Wildspire Waste, Old Jungle, Jungle, Everwood, Old Swamp, Flooded Forest, Heaven's Mount, Coral Highlands, Ancestral Tomb, and Tower.
In old legends, Pink Rathian was said to be a gentle wyvern that watched over a young girl, but in reality, Pink Rathian is extremely aggressive.

Pet Pink Rathian are known to be quite gentle towards their owners.

Pink Rathian are often seen in the territories of other Flying Wyverns.
Compared to a normal Rathian, Pink Rathian's shell is much thicker, preventing most attacks from scarring her easily. She is also a lot more skilled with her tail than a normal Rathian, allowing her to pull off some tricky maneuvers.
Her flying abilities are comparable are almost to a Rathalos, and she has even been reported attacking sailing ships.
Pink Rathian are known to severely injure many hunters during hunts, even killing some. First-time hunters usually underestimated her due to her color, causing them to believe that she isn't much of a threat.
A Pink Rathian's shell has hardened during adolescence.
Artisans rarely lay their eyes on a Pink Rathian's scale. The color hides this scale's true strength.
Pink Rathian Roast (Japanese 雌火竜の桜ロース) tastes better than normal Rath meat. It is said that a cherry blossom snowstorm of happiness dances in the consumers head upon tasting the meat.
All of Pink Rathian's parts are very valuable from their rarity alone.
Videos
Video

MH4 モンスターハンター4 - 集会所★5 リオレイア亜種 Rathian Subspecies HR4 Urgent

Title
MH4 モンスターハンター4 - 集会所★5 リオレイア亜種 Rathian Subspecies HR4 Urgent
by kormaruR
Video

MH4G - G★1 - リオレイア亜種2頭 Double Pink Rathian 10 16 2014

Title
MH4G - G★1 - リオレイア亜種2頭 Double Pink Rathian 10 16 2014
by kormaruR
Video

Monster Hunter World Pink Rathian Boss Fight 17 (Solo Hammer)

Title
Monster Hunter World Pink Rathian Boss Fight 17 (Solo Hammer)
by Boss Fight Database
Next Week