Hello, and welcome to Monster Appreciation Week!
This week we look at the return of the 1st/2nd Generation nightmare that didn't need to return, especially like this, with hipchecks and more, Plesioth!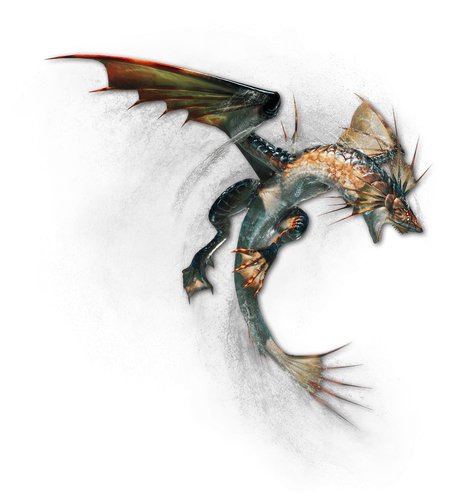 In-Game Description
Monster Hunter Generations

Giant piscine wyverns which can be spotted near bodies of water. Where wings would be found on other wyverns, it has developed fins specialized for swimming, and, as a result, cannot fly. Despite its fish-like appearance, it is just as comfortable on land.




Threat Level (危険度): ★★★★
Monster Hunter Generations Equipment
Blademaster


Gunner


Mounting Master
Airborne
Capture Expert

Mounting Master
Airborne
Capture Expert
Interesting Facts About Plesioth
Order: Piscine Wyvern
Suborder: Fish Feet Wyvern
Superfamily: Water Wyvern
Family: Plesioth 
Plesioth breath through their skin and have lungs.
Their swimming speed is said to be faster than a galloping horse and they are faster than a Leviathan.
The water that Plesioth fires from its mouth is water that it swallowed while swimming.
Plesioth eat giant crocodiles found in Jungles and other areas besides a few other creatures.
It turns out Plesioth in certain regions can be vary from each other like the New World and Old World. Plesioth in the New World seem to be better adapted for sea life.
They were just recently discovered to be able to survive in saltwater but before it was thought they were only adapted to freshwater.
Plesioth are a rare sight in some regions like Val Habar.
Some places may have outbreaks with Plesioth that are living close to some areas.
The Green Plesioth is its own species and it is also said that it is better adapted for land.
Its hunting style is believed to be opposite to the normal Plesioth's hunting style.
Giant Plesioth seen in the New World are rare individuals that are usually found in Moga's Region.
A Plesioth's eggs hatch inside its body. Like sharks, the first few that hatch eat the eggs and the other young inside the womb. Only a few of them will survive to adulthood, when the mother gives birth. This proves that Plesioth are cannibalistic, at least when they are young.
A Plesioth's fang is sharp enough to shatter a Carapaceon's shell.
Plesioth's scales always shine, even when it dries. A scale from older Plesioth can fend off claw and fang attacks.
Inside their fin's spines, a horrific neurotoxin can be found in them.
Videos
Video

Monster Hunter Freedom -- "The Ancient Piscine" (Plesioth Intro)

Title
MHF: Plesioth Introduction Video
by octaneblue2
Video

Monster Hunter Freedom Unite -- "The Piscine Plesioth" (Plesioth Intro)

Title
MHFU: Plesioth Introduction Video
by octaneblue2
Video

Monster Hunter 3 (Tri) G - Wyvern of Water (Plesioth intro)

Title
MH3G: Plesioth Introduction Video
by GSD933
Video

Monster Hunter 3 (Tri) G - Plesioth Life

Title
Plesioth Ecology Video
by GSD933
Video
Title
Monster Hunter Generations - Online Hunts 39 Plesioth HR4 Urgent Quests
by omegaevolution
Community content is available under
CC-BY-SA
unless otherwise noted.