Hello, and welcome to Monster Appreciation Week!
This week we look at one of the new comers of the new Generation, Seltas!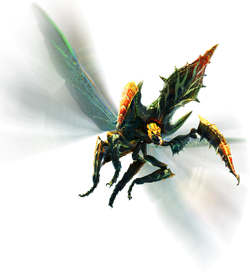 In-Game Description
Monster Hunter 4 Ultimate

Neopterons that use swift aerial movements to attack invaders on the ground. The sharp appendages on their heads can make their lunging attacks quite dangerous, though they sometimes overshoot their targets and slam into the ground.




Threat Level (危険度): ★★★
Monster Hunter 4 Ultimate Equipment
Blademaster


Gunner


Artillery Novice
Razor Sharp
Stam Recov Down

Artillery Novice
Razor Sharp
Stam Recov Down

Artillery Novice
Use Lv1 Crag S
Stam Recov Down

Reload Speed +1
Artillery Novice
Stam Recov Down
Interesting Facts About Seltas
Seltas' wings allow him to fly at high speeds and the buzzing from the wings actually protects them.
Seltas is the male while Seltas Queen is the female.
In the abdomen, Seltas have an organ that produces a disgusting liquid that they use as a weapon but they also use it to dissolve prey and dead animals before feeding on them.
Seltas maybe smaller than Seltas Queen but he's still pretty strong and can lift Seltas Queen in the air.
The pheromones from a Seltas Queen puts the Seltas in a strange yet deadly mind control.
Videos
Video
Title
Kogath - Monster Hunter 4 - Seltas Intro
Provided by Kogath
Video

Monster Hunter 4 Nubcakes 03 - Aruserutasu English commentary online gameplay

Title
Monster Hunter 4 - Seltas HAMMER gameplay
by iCEMANnoob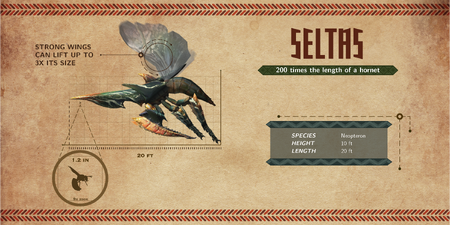 Community content is available under
CC-BY-SA
unless otherwise noted.