Hello, and welcome to Monster Appreciation Week!
This week we look at MH's Jay Leno, Uragaan!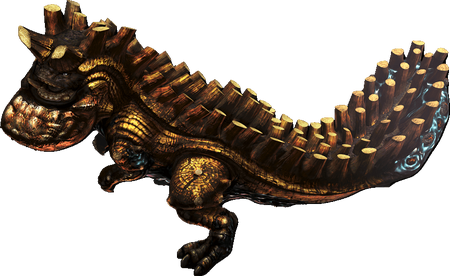 In-Game Description
Monster Hunter Generations

Large brute wyverns that feed on ore, using their mighty jaws to crush bedrock to powder. They cleverly affix rocks and ore to their hides with lava, then cast them about, using vibrations to make them explode. When they fall, ore can be mined from their bodies.




Threat Level (危険度): ★★★★★
Monster Hunter Generations Equipment
Blademaster


Gunner


Negate Bleeding
Punishing Draw

Negate Bleeding
Punishing Draw
Defense Up (S)

Negate Bleeding
Pellet/Spread Up

Negate Bleeding
Pellet/Spread Up
Defense Up (S)
Interesting Facts About Uragaan
Order: Saurischia
Suborder: Theropoda
Superfamily: Hammer Jaw Wyvern
Family: Gaan
Uragaan doesn't just use its chin like a hammer but they also use it like a shovel to dig underground and possibly to pick up ore. The chin has evolved to crush ore, rocks, and other minerals and to break them off walls or other objects. They also use their chins against threats and to fight for territory.
To try to scare of threats, it'll roar and smash its chin multiple times.
Besides their tail, their chin help them keep balance.
When they are young, they are herbivores and as they get older, they switch to eating ore.
To keep cool, they will release the gas from their body as both a means of keeping cool and for defense. When enraged, the gas is hotter and changes to a flammable gas.
Uragaan usually rest in or on top of brown liquid oil. As a result, their tails and stomachs are usually covered in it. The oil bonds Uragaan's body with rocks, which can act as a protection against degradation of its own shell when rolling. The rocks it carries can either be used later as food or thrown as a weapon when they feel threatened.
It is difficult to determine a Uragaan's sex from appearance alone. However, during breeding seasons, the males will dress itself with many rocks to impress the females. Diet during this season consists of high quality minerals and valuable jewels to obtain a hard, glossy, golden shell and jewel covered body. The males compete for the brightest display.
Uragaan's Special BGM
| | Title |
| --- | --- |
| Monster Hunter 3 (Tri) OST Disc 1 - Bonus Track - Mini Uragaan | MH3 Phantom Uragaan Music Theme |
Videos
Video
Title
Uragaan Ecology Video
Provided by darkmichaeluchiha
Video
Title
HR 40 Uragaan
by MHFUFIGHTERS
Video
Title
MH3U - Uragaan G ★★★★★★★ (Solo Horn)
by DashTradeSy
Video

【MHF-G】G遷悠 ウラガンキン ハンマーソロ 【敗北】

Title
【MHF-G】G遷悠 ウラガンキン ハンマーソロ 【敗北】
by くむちゃんねる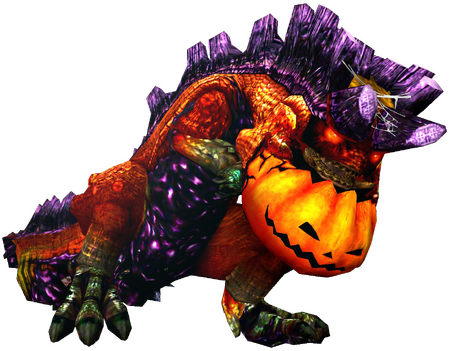 Community content is available under
CC-BY-SA
unless otherwise noted.