Hello, and welcome to Monster Appreciation Week!
This week we look at the most popular monster in the whole series, Yian Kut-Ku!
In-Game Description
Monster Hunter 4 Ultimate

A bird wyvern with a huge beak and large ears that splay open when it is angered. Due to its sensitive hearing it dislikes loud noises. It is smaller but faster than other wyverns.




Threat Level (危険度): ★★★
Monster Hunter 4 Ultimate Equipment
Blademaster


Gunner


Attack Up (S)
Fire Atk +1

Attack Up (M)
Fire Res (S)

Attack Up (S)
Fire Atk +1

Attack Up (M)
Fire Res (S)
Interesting Facts About Yian Kut-Ku
Yian Kut-Kus feed on worms, insects, and Neopterons. They use their beaks to scoop into the ground and dig out their prey. Usually after feeding, they may leave behind a hole in the ground and may even leave behind a scale, telling hunters that one is/was in the area.
During breeding season, female Yian Kut-Ku grow feathers on their abdomen so they can keep their eggs warm.
Yian Kut-Ku eat stones similar to Hypnocatice in order to help them digest food.
Their ears are used to intimidate potential threats.
Wherever Yian Kut-Ku are living at, Yian Garuga aren't to far away from them.
Videos
Video
Title
Kogath - Monster Hunter 4 - Yian Kut-Ku Intro
Provided by Kogath
Video

Let's Play Monster Hunter 4 008 - Der Lehrmeister ist zurück! GER

Title
Monster Hunter 4 Yian Kut-Ku Gameplay
by MHVuze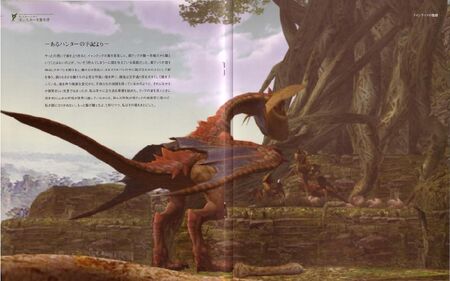 Community content is available under
CC-BY-SA
unless otherwise noted.