Hello, and welcome to Monster Appreciation Week: Plesioth and Green Plesioth!
Another week, another blast from the past. A water blast, in this case, followed by a gigantic hipcheck.
And I know we've had a Plessy MAD before, but he (and his Sub) are so different now they kinda deserve another one.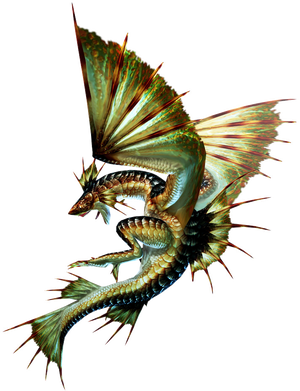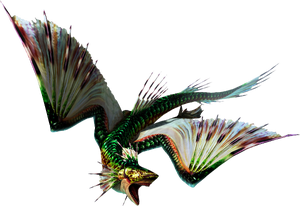 In-Game Description
Monster Hunter 3 Ultimate

Giant piscine wyverns with swift and varied underwater movements, as well as deadly breath and charging attacks. Plesioth are agitated by loud noises, so approach warily. Their favorite food is frogs.

Monster Hunter 3 Ultimate

A subspecies of Plesioth with jade-green scales. Though primarily aquatic, the creature's movements are equally adept both in and out of water. When enraged, it has a habit of surfacing to rampage on land.
MH3U Weapons
Great Sword
Long Sword
Plesioth Splasher
Plesioth Splasher+
Verdant Splash
Verdant Splash+
Jade Vagalhao
Lance
Aqua Spear
Aqua Spear+
Stream Spear
Emerald Spear
Esmeralda's Tide
Rockabye Spear
Requiem Spear
Hammer
Plesioth Head
Plesioth Head+
Plesioth Breaker
Verde Plesioth Head
Green Ronperagon
Switch Axe
Light Bowgun
Videos
Video

Monster Hunter 3 (Tri) G - Plesioth Life

Title
Plesioth Ecology Video
by GSD933
Video

Monster Hunter 3 (Tri) G HD Ver. - Green Plesioth (G-Rank) 4 players online

Title
Monster Hunter 3 Ultimate - G-Rank Plesioth, Group
by GSD993